Get up to 20% off G Suite promo codes those works for the countries like USA, UK, Australia, India, Germany, Brazil, Singapore, UAE and other countries where Google is selling G Suite packages. Find the coupons that work based on the country. Google is presently giving only 20% off coupons, keep watching here for more offers as and when we get them will update here.
Get G Suite Promo Codes from here for all countries.
Google offers G Suite Business plan promo codes only in USA, Canada, Australia, Germany, Ireland, Singapore, Netherlands, France, Hong Kong, New Zealand, Belgium, Italy, Portugal, Spain, United Arab Emirates and the UK and is yet to release in few other countries.
Remember you can use G Suite promo codes only during your first payment, and once payment is completed, you will not be able to apply the promo code anymore. G Suite offers are only for the first time registrations and cannot be redeemed later.
Get 20% off flat discount per user per year using these G Suite promo codes. G Suite basic plan coupons work for both flexible and annual plans.
How to use or apply G Suite Promo code
It's not a rocket science to redeem G suite promo code, just go to your G Suite account and click on billing setup, copy the code we have given and paste it into the promotion code box as shown in the below image. The discount amount appears at the end of the payment process.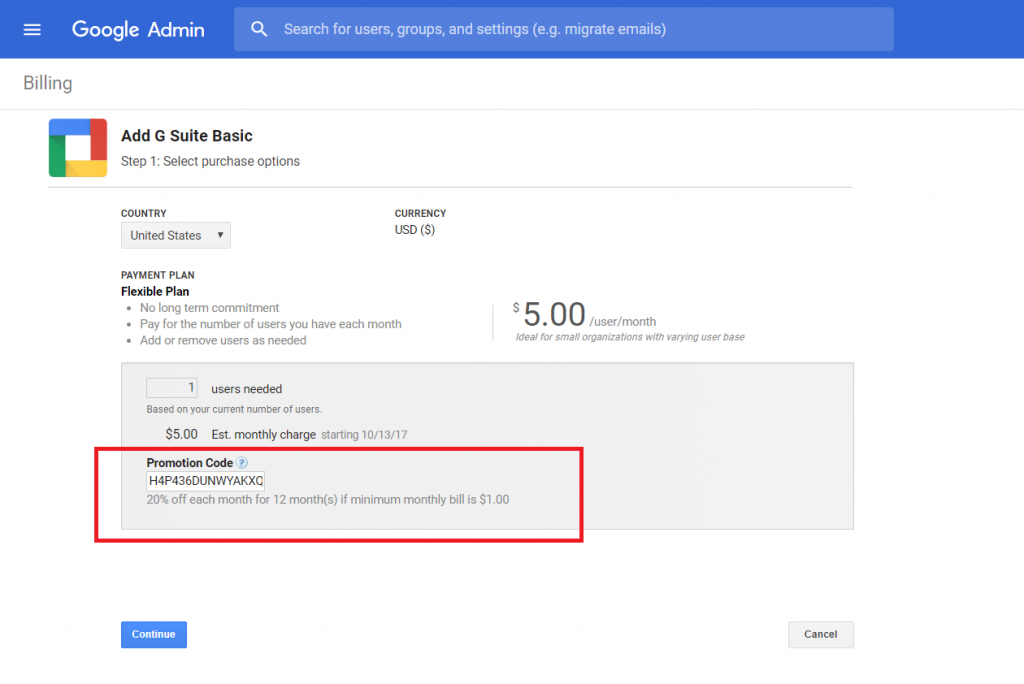 Tips to get higher discount for G Suite packages
The bigger the size of company and number of users the higher the discount you will get from Google on G Suite accounts however you get only 20% off until you cross 500 users.
Try to utilize 14 days trial with resellers and enterprise or premium resellers can give up to 90 days trials, so effectively your cost per year is going to come down drastically.
Use the G Suite trial period properly and get promo codes from partners like us and redeem them for your 20% discount.
You also find other ways to save money while purchasing G Suite plans here
If the promo codes don't work or any requirement in setting up your G Suite account, please write to gsuite.keogh1@gmail.com
G Suite Review
Value For Money

Features

Uptime

Support

Technology